Today's Parent – article on 19 books about Canada (Rated 3/19)
Each letter in this book represents a place, person or event part of Aboriginal history and culture. Kids can learn informative facts and stories about the communities who first lived in Canada
Anne Rudelle – Educator (Toulouse France)
Thank you … for this beautiful reader full of the true value of living and loving. ..
As a teacher of the English language in French secondary schools, my task is so very complicated in terms of pedagogy and the forming of young boys and girls for their future beings as the adults of tomorrow's world. Your book is hopefully elating as it gives me confidence in teaching the values I want to teach and share while teaching and sharing the cultures of all the Aboriginals and " nations " that we all come from.
The text is so simple , poetical , and true to the facts. The illustrations superb, powerful, true to life.  Thank you .
Vancouver Native Housing Society
I believe it is an important book for Aboriginal and non-aboriginal children alike. The respectful way that the author deals with the subject, the artful presentation and the thoroughness of the background research that reveals the scale, depth and richness of Aboriginal history and cultural gives it that magic combination of being educational while being both fun and interesting for the young reader.
Richard George, Board President
---
Werklund School of Education – University of Calgary
A curriculum development team created a Grade 6-8 lesson plan based on A is for Aboriginal. They stated that: 'This resource could really be used at any grade level K to 12. The graphics are suitable for younger audiences, while the content in the book can be scaled up or down to meet the curricular outcomes for any grade.
One of the core competencies they described was 'Literature, Language & Culture'.  They noted that:" This resource encompasses everything that this course entails. Not only are students expanding several literacies, they are doing so by exploring language and culture that they are surrounded by. This resource entangles the perspectives of the teacher and student with the very important Indigenous perspectives and histories while challenging students to develop their different literacies." Read review…
Rianna Garthus, Werklund Graduate
---
Vancouver School Board
As an Aboriginal educator I appreciate the author's suggestion that the list of indigenous peoples under each letter can be read as a 'poem of remembrance'.  When combined with the forty-page glossary this provides all Canadians a wonderful opportunity for exploring the rich cultural fabric of our people.
Don Fiddler, District Principal, Aboriginal Education (Retired)

---
Our First Professional Review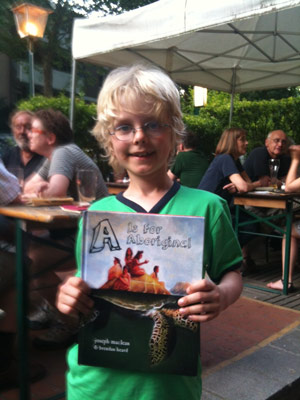 I met Lawrence and his Dad in a Berlin cafè and I asked the Dad if his boy would like to see a new children's book. What was great was that Lawrence sat for the next forty minutes reading every page. Having an eight year old jump in with both feet and then agree to give us a review was really great.
"My name is Lawrence and my favourite letter is the letter 'L'. I really liked the book, the pictures were great and I learned a lot about Native people that I never knew before."
---
Canadian Review of Materials
The alphabet is highlighted and explored letter by letter with background information on a name, place or facet of First Nations' history and culture in Canada and beyond our borders. Each letter is accompanied by a full-page illustration that corresponds, illuminates and exemplifies the simple but evocative text and a listing of aboriginal tribal affiliations that begin with that letter.
The gathering of broad information in the glossary makes this a constructive purchase for school and public library collections.
Recommended.
Reviwer: Gail de Vos teaches at the School of Library and Information Studies for the University of Alberta and San Jose State University. She is the author of nine books on storytelling and folklore. Read full review.