The discovery of shallow, unmarked graves near a number of residential schools in Canada has once again shown Canadians and the world that the path to reconciliation is going to be a long and arduous one.

In support of the Truth & Reconciliation Commission (TRC) calls to action the author has produced a special 'Reconciliation' edition and is making this edition of A is for Aboriginal available for six dollars (Retail $29.95). You can order copies below and anyone wishing to receive a free copy can register for the free distribution:
Part of the path forward is for all Canadians to learn more about our First Peoples: The First Nations, the Inuit and the Métis. Many Canadians do not realize that there are over 600 First Nations in Canada and over 70 distinct Indigenous languages – more than the number of official languages in the EU.
Leaning about the rich fabric of Indigenous history, art and culture is part of the solution…

"Education, delivered through residential schools, was the tool for assimilation. It was education that helped to perpetuate the situation we see today for Indigenous Peoples in Canada.

We at the TRC believe that it will be education, again, that will be the tool that best addresses all of that, for education will create knowledge and from knowledge will come understanding. From understanding will come respect – both self respect for Indigenous people and mutual respect for all."
The Honourable Justice Murray Sinclair, 9th Session of the United Nations Permanent Forum on Indigenous Issues Speech by Chairperson,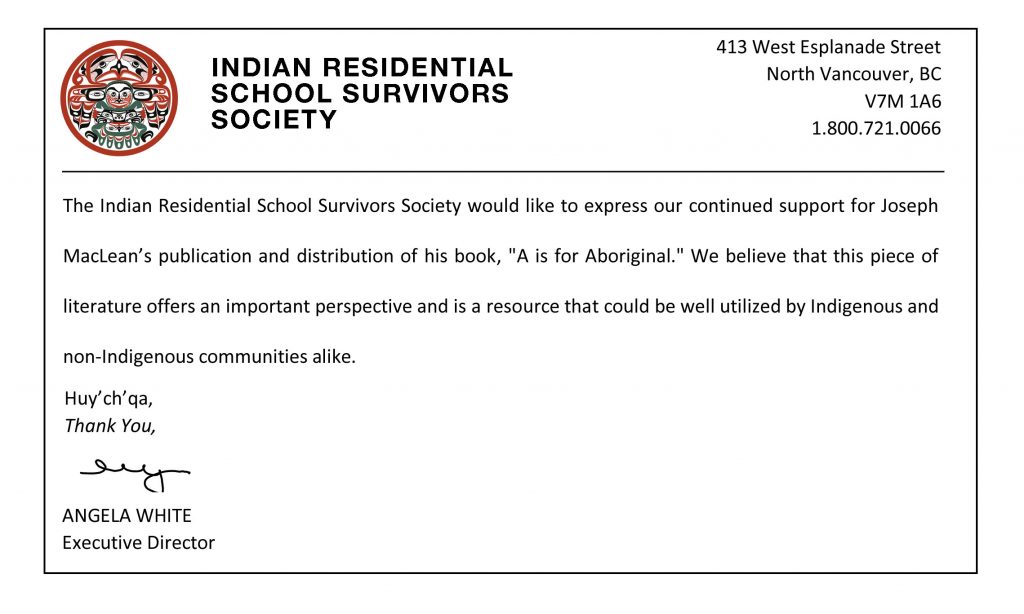 A is for Aboriginal is available online at: Chapters.indigo.ca, Amazon.com, BarnesandNoble.com and at many fine bookstores in Canada and the United States.  If your bookstore doesn't have a copy they can order it from one of our distributors. Canada. US.
I would like to thank my distributors for supporting the free distribution of my book.
—
The book: 
The reader will discover some interesting bits of history and tradition that are not widely known. Many, for example, do not know that Thomas Jefferson and Benjamin Franklin (two of the American Founding Fathers) both attribute the Haudenosaunee (Iroquois) Confederacy, one of the world's oldest democracies, as the inspiration for the American Constitution. Or, that the origin of 'Red Indian' is not because of skin colour, but from the ochre (iron oxide) used by the now extinct Beothuk to colour their skin red – red skin.
At the bottom of each letter there is a list of Indigenous peoples that begin with that letter. The idea is that the names can be recited as a sort of poem of remembrance. This book celebrates Aboriginal heritage and culture and is beautifully illustrated by Brendan Heard, a Canadian artist who works in oil paint and digital medium.
The author, Joseph MacLean, is an historian by education, a story teller by avocation and a social entrepreneur by trade. The book was written over ten years ago when Joseph was working on a literacy project in Vancouver's infamous DTES (Downtown Eastside) – the poorest postal code in Canada.