We have created an employee/customer engagement program to share the Reconciliation Edition as a means of participating in the reconciliation process.
We invite you to join our Buy One Gift One matching program. When an employee/customer or member purchases a copy of the Reconciliation Edition of A is for Aboriginal you agree to fund a free copy that you can distribute yourself or have us distribute it from our growing list of folks requesting free copies.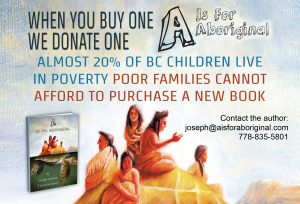 Copies are $6 each. Cartons of 17 copies: $102.00. (FOB our Pop Up at #304 Bentall Centre near the post office). One dollar goes to the Indian Residential Survivors Society to support their work. The retail price for this Reconciliation Edition is $29.95.
To find out more please contact the author by email or call 778-835-5801
Please note: This program works best when the books purchased by the employees/customers are made available at the workplace and/or branch office(s). Thank you.