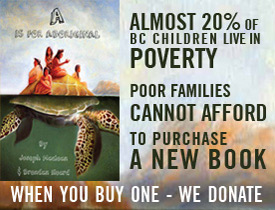 An anonymous donor is sponsoring a special Buy One Donate One program for A is for Aboriginal. For every copy purchased one copy will be donated either to a community partner or to the the First Nation/Organization itself to distribute in their community.
The author has agreed to offer the books at a 50% discount of the $24.95 retail price. The minimum order is 24 copies. The donor is covering the costs of the free copy but not the shipping and handling costs. The author will pay the shipping on the free distribution copies so when you order below you pay one dollar S&H for each copy you order – you do not pay any S&H for the free books even if you want to do the distribution in your own district.
Thank you for supporting this free distribution.
Description

A is for Aboriginal - Special Limited Time Offer